We purchased our home in October of 2008 for a bargain.  We know this home was built in the 1980s, and needed some tender loving care.  We were able to redo the front bathroom and the kitchen in the first year, Later we stained the back patio for a family gathering, and this year we were able to change the tile in the front entryway.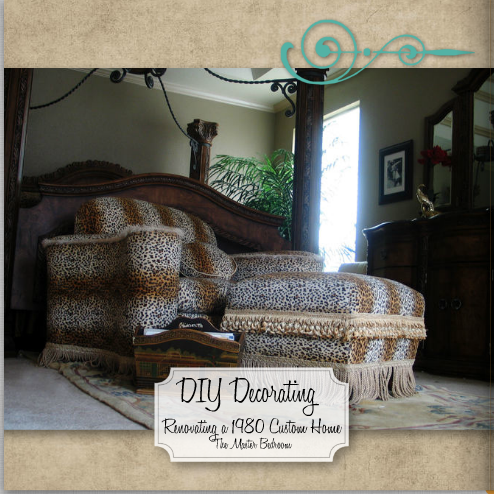 I took an upholstery class from the community college here in Houston, and I was able to redo some chairs I purchased from Hotel Liquidators.  I must say that my teacher is a master at his craft.  His name is Robert Pinson and the name of his shop is "Abby Upholstery".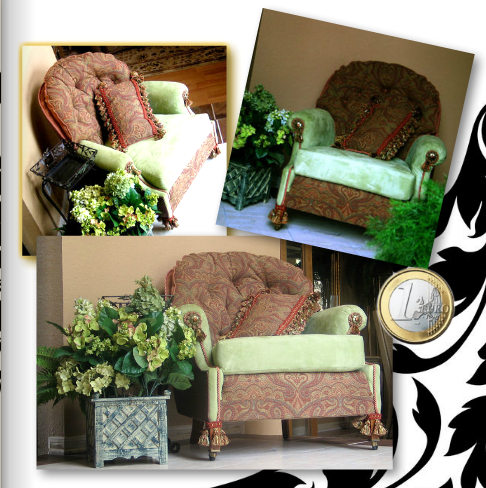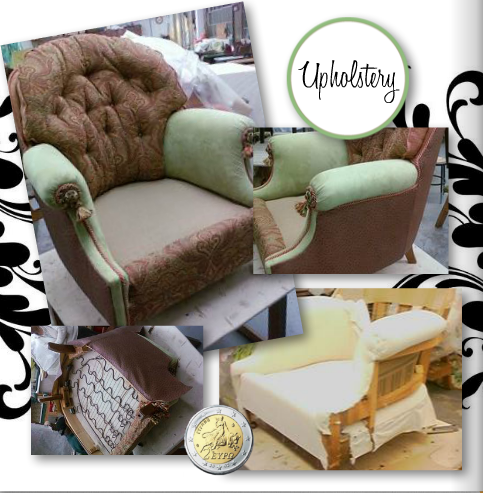 The kitchen was challenging in that I needed to replace the small island that had very little counter space and even less storage.  We priced several combinations at Lowe's and Home Depot, but what I wanted was not in our budget.  The base cabinet alone was well over $1500, and we hadn't even added the trim and decorative sconces.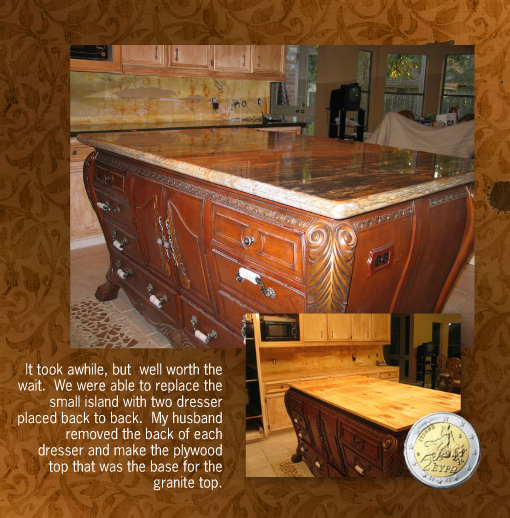 Instead we were able to find 2 identical dressers at a local furniture clearance center.  My husband was able to attach them back to back by removing the backs and the tops. He was able to also install an electrical outlet in the same area as before.  After they were fastened together, he was able to secure them further by attaching the top.  This served as the foundation for the custom granite countertop we had installed.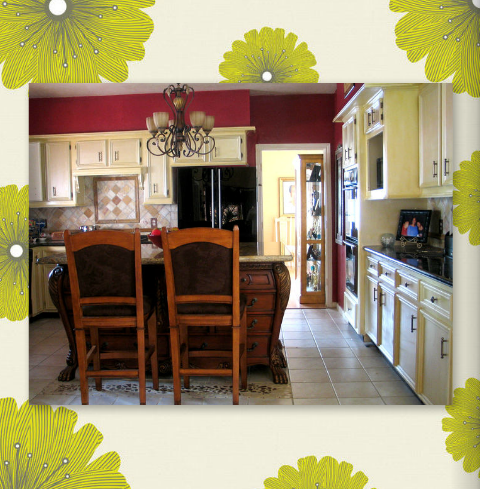 We inherited a very neutral entryway when our home was purchased.  We were able to warm up our color pallet by adding Palomino in a satin finish to the walls and a darker tile to outline the step down areas in the entry.  This was to help determine the edge of the steps and reduce the risk of falls.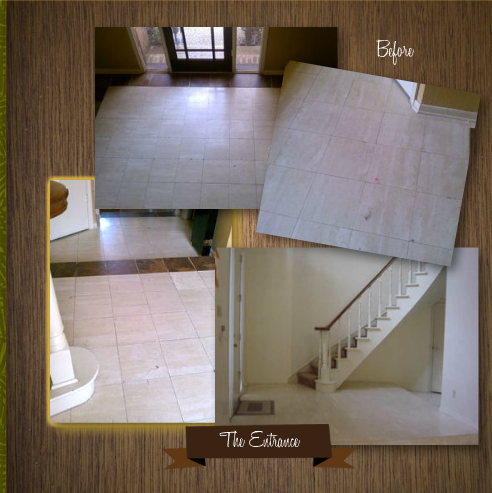 We were finally able to change the marble tile and replace it with a beautiful porcelain tile we found at one of the tile outlets here in Houston.  We were able to get these discontinued 18 x 18 inch tiles for $2.40 per square foot.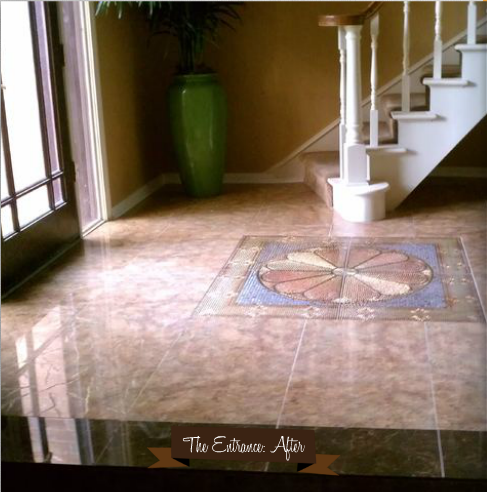 I fell in love with this ornate medallion and was able to get it at least 6 months prior to having the floor installed.  I jumped on it because you never know when it's going out of stock, especially in the outlets.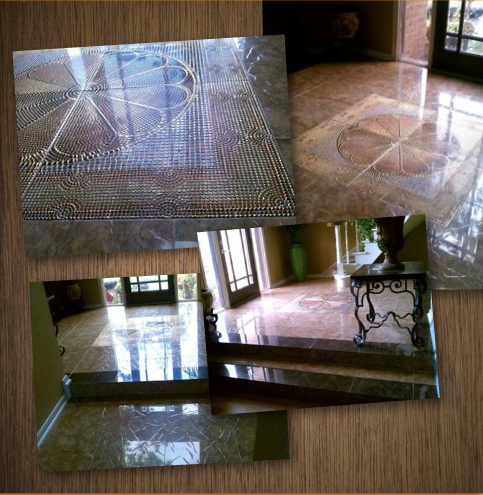 The cabinets in this bathroom were while and resembled the cabinetry in the kitchen in the before pictures.  We were able to remove the all-in-one marble sink and countertop and replaced it with mosaic tiles and a cobalt vessel sink.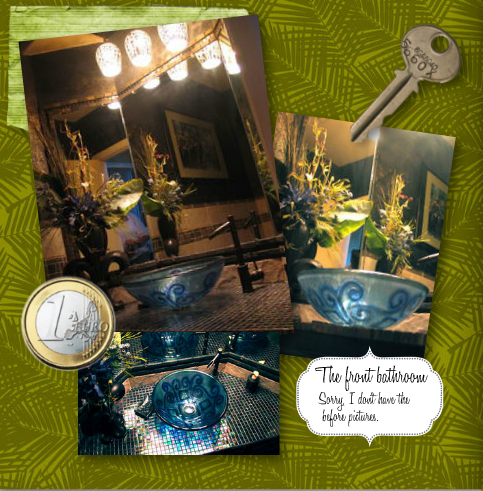 We were able to stain the concrete in the back patio, carport and driveway areas.  It has been 2 years and the stain has not faded that much.  It will be time for another treatment in about another 2 years.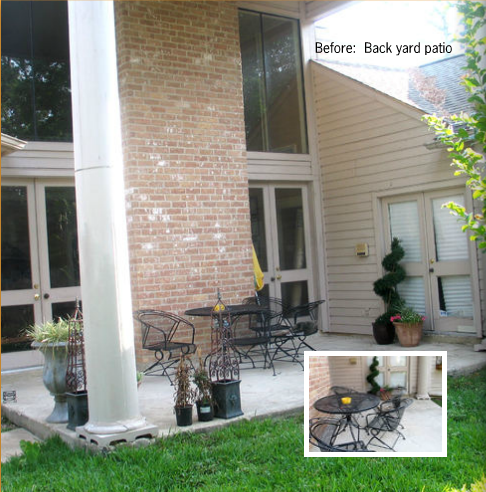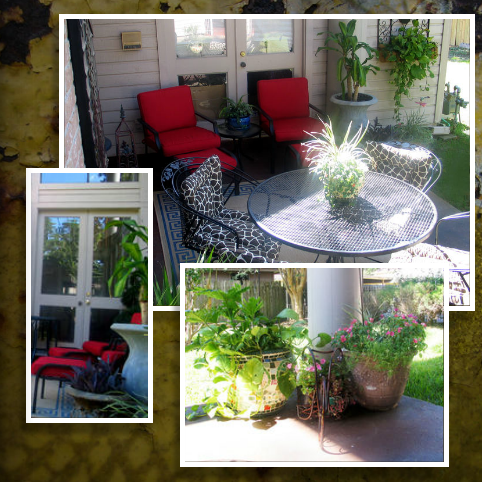 The family room was single-handedly transformed with a few coats of Palomino satin paint.  We removed the shutter doors of the wet bar and sanded and refinished the parquet floors.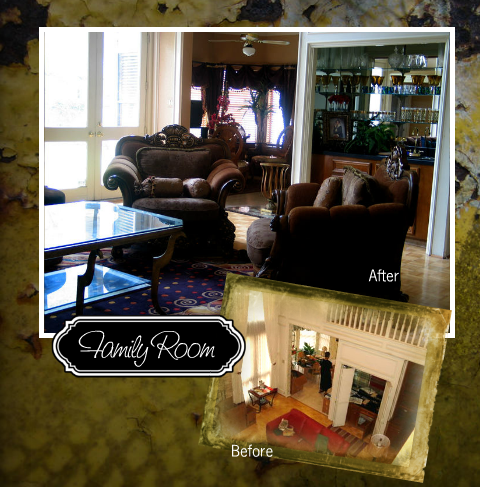 This is our 4th year in our home and we have several projects to go.  This time I will be prepared to take lots of before and after pictures.  Thanks for stopping by.